Products > Griglio > Description
GENIAL PROJECT - "GRIGLIO"
Looking for the absolute comfort and well being
GRIGLIO
is a self-blocking mattress for bed used with sand. It avoids the problem of sand leakage from the bunks without compromise the comfort or hollow due the activity of the animals. Moreover, special characteristics of sand can guarantee a fresh, dry and aseptic zone.
It also offers a safe and continuous support, that makes possible for the animal to lift up with no effort and it cancels the danger of wounds and abrasions.

COMPOSITION AND CHEMICAL-PHYSICAL CHARACTERISTIC:
Rubber grains agglomerate derived from out of use tyres, bounded by polyurethane resin which has density of 1050 kg/m3.
GRIGLIO
is an high mechanical qualities product:
Crash-resistant, elastic memory and stress-resistant under permanent load.
The mattress is resistant to the attack of fungus, insects and microbes.
It doesn't accumulate electrostatic charge and it blocks the interaction among materials.
Highly acid-resistant, it doesn't putrefy and its characteristics stay unchanged all time.
GRIGLIO IS 100% RECYCLING.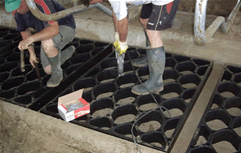 PLACING:
using plug at the bottom of the bunk and than fill it with sand (inert material) .